We set out to introduce the unique taste
of our Turkish delights
to the whole world.
We want to share Turkish Delight, which became an indispensable part of the palace cuisine in the Ottoman period, with the whole world under the name of Hafız Suat Lokumları.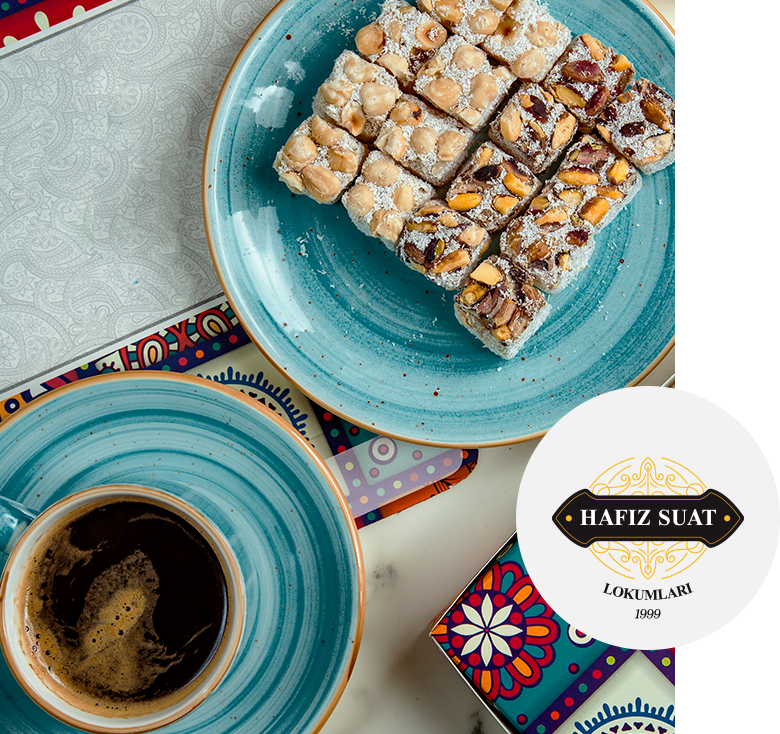 In this adventure, which we started by observing the experiences of our family elders, it has become a profession that is loved by all family members in a short time with the knowledge we have gained from the kitchen of the business.
---
In our Turkish delight adventure dating back to 1999, we had the opportunity to carry the mastery period to a different dimension after we spent our apprenticeship at the family workbench. In this journey, which we started to learn from the kitchen, we received Turkish delight mastery certificates and blended our knowledge with education.
Our Turkish delight adventure, which has been handed down from generation to generation, has also enabled us to meet considerable Turkish delight masters. As Hafız Suat Turkish Delights, we continue our knowledge and experience gained thanks to our elders.
Bagan Food Industry. ve Tic. Ltd. Sti.'s subsidiary, our brand is the product of the meticulous work of two partners. Hafiz Suat Turkish Delights were born by combining the title of one of the partners, HAFIZ, and the name of the other, SUAT. In this step we have taken with knowledge and cooperation, we have been operating in Istanbul Bahçelievler since 2018 by obtaining all the necessary documents in Turkey and the countries we serve.
In addition to our business in Bahçelievler, where our products are manufactured and wholesaled, as of 2022, we launched the Turkish Delight Museum in Sultanahmet for retail sales.
Our brand, Hafız Suat Lokumları, which is one of the Turkish delight companies that produce and export Turkish delight, is among the best Turkish delight brands preferred both in Istanbul and in the world in a short time.
Hafız Suat and Sustainable Food Mentality
We set out to introduce the unique taste of Hafız Suat Turkish Delights to our country and then to the whole world. Hafız Suat Lokumları, one of the Turkish delight export companies, is advancing with the understanding of sustainable food.
Our priority is a circular and sustainable business model. With this social awareness, we aim to provide reliable nutrition resources to future generations by adopting environmentally friendly practices for production, packaging, logistics and consumption processes.
Production and Quality
With our infrastructure that can produce all kinds of Turkish delight, we have been continuing our production by preserving the same taste and flavor without sacrificing quality since the first day we started producing Turkish delight. The products of our brand, which is among the companies that export Turkish delight, considering that human health is paramount, are produced under the most appropriate hygienic conditions without using food dyes or additives.

We are determined to protect our cultural heritage with our Turkish delights that adorn the palate of every generation.